The people at VTT are passionate about doing research at the top of their field. Even when highly motivated, it's easy to get so into the work that there is also a risk of a burnout. However, Kirsi Nuotto, SVP Human Resources at VTT, says that the latest figures in occupational health care show that mental health problems among VTT employees are declining, which is a positive trend. She believes that the reasons behind this are the company's excellent wellness strategy and the well-being processes and tools in use, like Auntie.
VTT has both domestic and global customers, and their work is mainly project work. International project work is interesting and rewarding, but also demanding and challenging. VTT implements large-scale international projects that have very strict time and geographical constraints, be it quantum technology or a future food-related solution, such as coffee production in the Espoo laboratory. Sustainable food production solutions, the logistics of the future, and solving climate and plastic problems are great examples of future innovations and represent some of the topics for more than 2,000 VTT employees.
"Auntie's versatile services offer solutions to many different needs, and the solution-focused approach clearly seems to help many. We can warmly recommend Auntie's services to other organisations, as well!"

Kirsi Nuotto, SVP, Human Resources, VTT
The work of the well-being team pays off
Kirsi is grateful for the support given by management and their commitment to the overall well-being of the staff. VTT understands the importance of a comprehensive well-being strategy and the importance of practical well-being support measures when it comes to, for example, productivity and motivation levels.
The VTT well-being team was established three years ago to put together a comprehensive well-being strategy. The starting point was to understand what the biggest challenges to well-being are, how to solve them and, above all, to help people to look after themselves better. "With the help of our committed well-being team and active partners, we are able to think about future measures, campaigns, coaching and preventive activities in our annual plan. We closely follow the figures and well-being trends, and we lead the well-being of our employees with both data and empathy. We plan how we can best support the well-being of our employees and prevent challenges such as burnout at work," says Kirsi.
""We also pay close attention to the seamless cooperation with our partners who support well-being and plan annual activities with us. For instance, we bring together all our well-being partners for a meeting a few times a year. After the joint meetings, everyone has a common understanding of what our common annual goals are, what we aim for in our well-being measures, and what support is available to our employees," says Kirsi
During the pandemic, some have been working on site and some from home
Of the staff, 300-400 people do experimental work in laboratories and various research environments, and have been working on site throughout the pandemic. Others switched to working from home at the start of the pandemic, until 2021 saw a brief return to the hybrid model, which was changed to working from home again in late autumn 2021.
The well-being of employees working from home as the pandemic goes on has been surveyed, as in other companies. Some have liked working remotely while others have not. For some, it has brought a lot of relief because they feel they are saving travel time and are able to organise things more easily during the work day. For many, however, it has added stress due to various reasons.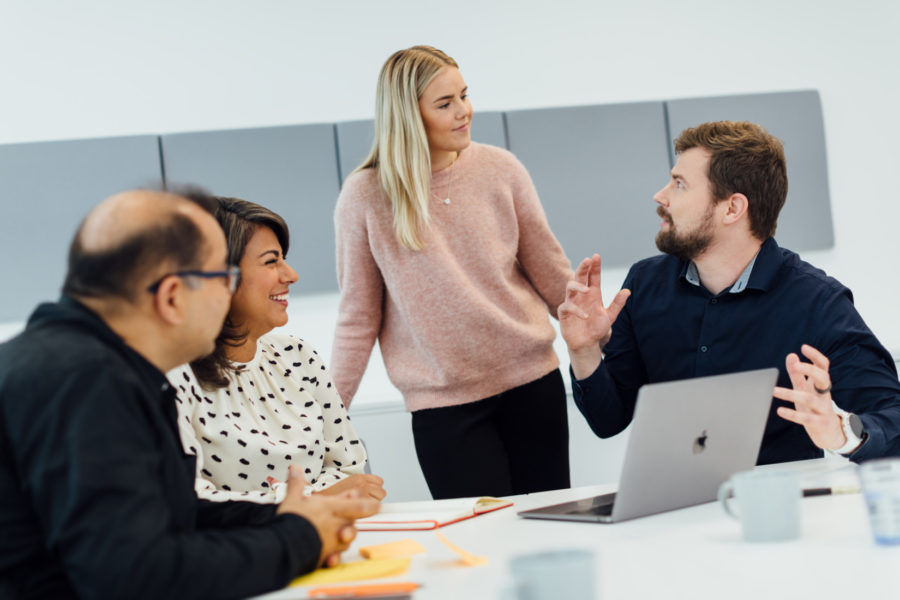 Auntie is different in a positive way
VTT closely monitors what is happening in the well-being sector, both in Finland and internationally, and is happy to try out new solutions. "We came across Auntie by chance while we were exploring various new forms of support for our employee well-being. We piloted with Auntie and immediately received good feedback. Employees considered Auntie's services to be good and approachable. So we have offered Auntie's services at VTT for several years," says Kirsi.
Auntie is used by all of VTT's employees, and several dozen people annually use Auntie's services. The wide range of languages on offer has also been beneficial, as VTT employs almost 50 different nationalities - the best way to utilise this type of service is to be able to speak your own mother tongue. Auntie looked different from the start in a positive way, and it immediately sparked a lot of interest.
The stigma around mental well-being is slowly disappearing
"Typically, there are still lots of prejudices about such services and solutions - albeit unnecessarily," says Kirsi. In her opinion, Auntie's product range and the way in which solutions and services are described are so fresh and different that the bar for using mental well-being services has clearly lowered.
VTT also continues to offer the services of an occupational psychologist through occupational health care, both face-to-face and remotely. Contacting occupational health care may sometimes still feel difficult, but fortunately times have changed and a wide range of additional services are available.
Solution-centric Auntie
Kirsi herself had the opportunity to try Auntie, and the experience was excellent. Although they met remotely, the professional was immediately able to connect and actively take the discussion forward so that it became a solution-centric situation. Once you have tried the service yourself, it is easier to let others know about it, too.
Auntie's versatile services offer solutions to many different needs, and the solution-focused approach clearly seems to help many, Kirsi notes. Cooperation with Auntie has gone well, and Kirsi is also involved in supporting the company's development as a member of the Auntie Advisory Board.
"We warmly recommend Auntie's services to other organisations!" Kirsi concludes.

More information about VTT.