Auntie was introduced at A-lehdet Group in early 2021. In the second year of the pandemic, the company wanted to invest especially in the mental well-being of its employees. "One hundred percent of users would recommend the service to others, which is a staggering number. We are very satisfied with Auntie," says Reetta Tuomi, A-lehdet Group's HR manager and leader of the HR team.
A-lehdet Group's strategy states that they want to be a prosperous media house. "We want our corporate culture to be a competitive advantage for us. A well-being staff is at the top of our priority list and this is systematically pursued. I personally believe that when there are enough choices in the palette of well-being at work, it's possible to find the best support for everyone," says Reetta Tuomi.
"We had high expectations for Auntie and they have been met. The quality and user-friendliness really convinced me. All the people I've met at Auntie have been strong professionals in their field. At A-lehdet Group, 100% of service users would recommend the service to others."h4>

Reetta Tuomi, HR manager, A-lehdet Group
Mental well-being in exceptional circumstances
In 2021, the company focused on mental well-being. The pandemic was a special inspiration for this, as support was needed more than usual. For example, A-lehdet Group organised well-being lectures for the entire staff on Teams, which dealt with, among other things, coping in exceptional circumstances and recovery. In addition, the management skills of supervisors were improved, especially the work-related psychosocial load, its identification and reduction by means of supervisor work were emphasised.
Auntie provided great support at the perfect time. Reetta Tuomi came across Auntie in her own LinkedIn feed and became interested instantly.
"I met with the people from Auntie and quickly became convinced that the service was right for us. It was something new, I hadn't come across a service like that before. I felt that during this pandemic, we could really use some very practical tools to support well-being at work. We have a working occupational health service that can help our employees when they need it, but I felt we needed to get a complementary service alongside it. We introduced Auntie, first on an experimental basis, but soon it became a permanent tool," says Reetta about the early days of the collaboration.
Increases a sense of security
A-lehdet Group employs about three hundred people, including those who do creative work in editorial, those who work in support functions, marketing and sales, and a telephone sales organisation of 120 people.
"Telemarketing is a demanding job that requires resilience and tolerating negative responses without being discouraged. When we introduced Auntie, it was self-evident that the entire staff was covered. Hand to heart, I can say that we do our best to take well-being into account," says Reetta.
"I just read the recent feedback I received from Auntie and one of them said that this is one concrete example of how A-lehdet Group cares about their employees. People feel that just knowing that such a service is available creates a strong sense of security."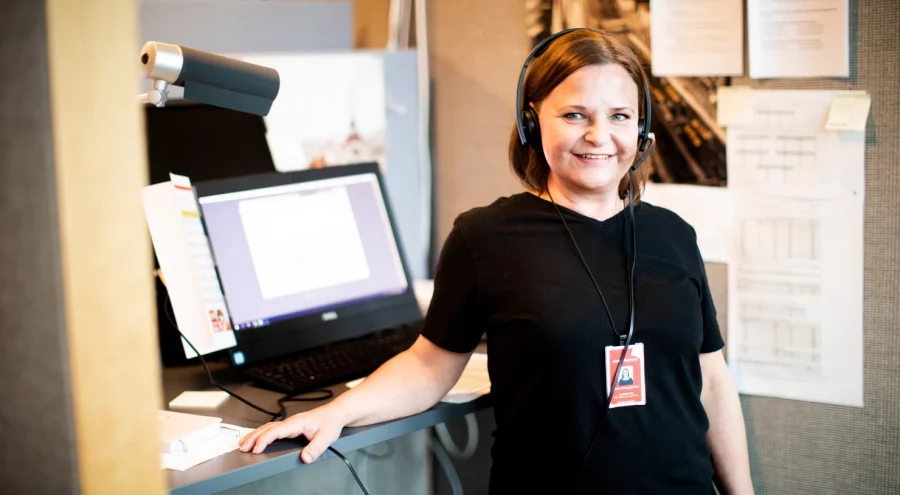 100 % recommends
Reetta Tuomi appreciates the fact that she is able to follow the kind of packages used by employees through the Auntie portal, which is tailored for HR managers. She also sees the feedback that users have provided, but the information is seen at a general level and no information about an individual user can be seen.
"The service has been very popular. Right from the start, users gave the service a grade of 9.2 out of 10. One hundred percent of users would also recommend the service to others, which is a staggering number. 22 % of respondents have experienced a reduction in their stress levels. This year's goal is to reduce absences due to mental health problems, and I believe Auntie will help us achieve it."
The resilience of superiors resonates
In A-lehdet Group, the largest volume has been in individual packages, but the superiors have also taken a chance on the Leader packages, which Reetta has warmly recommended to them.
"When a superior is doing well, it resonates with the whole team. When a superior has low energy or isn't doing so well, it very quickly has a big impact on everyone. In September, we conducted a personnel survey, in which the best evaluations were given to supervisors and their work. I think it is an incredible achievement during a pandemic. Everyone who works in a managerial position knows how much pressure this time has put on all of us and how much harder it has been to manage and lead by only using Teams."
High expectations were met
"We had high expectations for Auntie and they have been met. Auntie is a service designed for today. It's very user-friendly and the investment they've made in the customer experience is clear. All the people I've met at Auntie have been strong professionals in their field. In short; the quality and user-friendliness convinced me," says Reetta.
She also considers it a good service that if the employee does not know how to choose a suitable package, the matter can be discussed with a professional. Together, the right help can be found.
"After all this, I can say that I would warmly recommend the service to other companies as well. In my HR work, I consider it important that we work together to get rid of taboos around mental health problems. There is nothing shameful about it, on the contrary, it is good that you take care of the well-being of your mind. A-lehdet Group and I are very satisfied Auntie customers. The cooperation has gone smoothly throughout and I appreciate it," Reetta smiles.
In 2021, MIELI Mental Health Finland awarded A-lehdet Group a badge for their efforts (Supporting mental health at work), which is an indication that the company is committed to supporting the well-being of its employees. The reason for receiving the badge is that the company manages mental health in a systematic manner and that everyday workplace practices support mental health. The mental health of employees is also supported in various life situations, not just work-related issues.
The A-lehdet Group is a pioneer in media content, digital commerce and growth marketing. A-lehdet Group's media business publishes more than twenty well-loved magazines, produces Finland's most popular digital media content, represents roughly thirty influencers in different fields and is constantly developing new forms of media storytelling. In addition to A-lehdet Oy, the Group includes the growth marketing company Genero, the international online store for Nordic design, Finnish Design Shop, and Keskisen Kello, Finland's largest online retailer for watches and jewellery. In addition, A-lehdet has acquired a minority stake in the online store for sustainable sportswear and outdoor clothing Weekendbee.