Sara Mäki-Kala, Human Resources Director at oral health and dental services company Oral Hammaslääkärit Oyj, says that the well-being of personnel is an important measure in providing quality customer service. At Oral, the well-being at work program has been systematically built for a long time, but we saw the need for improvement in our comprehensive well-being at work program. Auntie responded to this need.
"We have for a long while focused on how our employees are doing, how their work ability can be safeguarded, and what kind of support we can provide in situations where their work ability is impaired or threatened. It is visible in our daily work and customer service situations if a person can´t fully concentrate on their work. We want to give our support to the employees," says Sara Mäki-Kala.
As the Human Resources Director, Sara has for the past 5 years been responsible for human resources, employee lifecycle services, personnel development, building employer reputation, and internal communications. Oral's business is based on expertise and in providing a comprehensive oral health service, as well as on how with our expertise we can give an excellent service experience. Expertise is developed in teams of dentists, oral hygienists, dental nurses, service advisors, and instrument technicians, as well as other expert teams.
"From Auntie we got a total package that was easy to purchase, you know what you are buying as a customer, and there is nothing vague or mysterious about it. The service concepts are designed to be truly functional."

Sara Mäki-Kala, Human Resources Director, Oral Hammaslääkärit Oyj
The functionality of pair work and work ergonomics as challenges
The service business and the nurse-doctor setting are characteristic factors affecting well-being at work at Oral. Dentists have a dental nurse as their work pair. How well this pair functions together is very critical.
At Oral, it was important to make the support for well-being at work package as broad, comprehensive, and holistic as possible. For many years now, a great deal has been invested in maintaining the work ability of the personnel. Oral, together with an occupational healthcare partner, has implemented extensive service packages to support health and work ability.
"It's good to remember that as an oral health expert, you always give your expertise to the client and for the benefit of the client. It is an important and at the same time demanding work. Clinical research is a key part of the work. The work is done closely as a dentist and dental nurse pair, and that too can sometimes bring a strain when working closely with each other.
Some factors causing strain are more traditional, such as work ergonomics, as in work positions. Work ergonomics is challenging at Oral due to the nature of the work. However, physical symptoms are not always the root cause why an employee's well-being at work suffers. It is good to identify all signals that challenge work ability and well-being at work," says Mäki-Kala.
Images: (c) Oral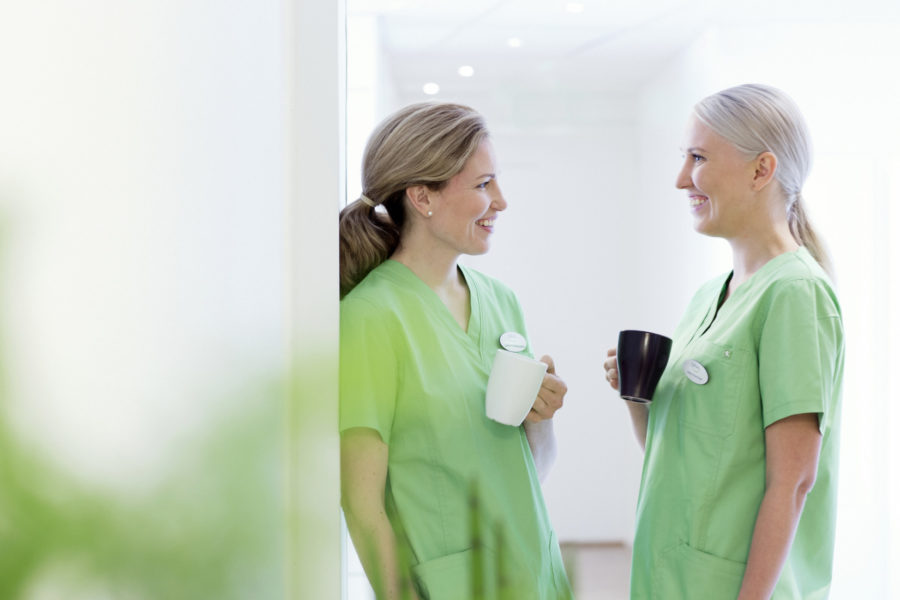 Services and needs did not align
"Although we had long had extensive traditional psychologist services available through occupational health care, we felt some more support was needed. Employees face challenges and stressors that affect mental well-being. We found that good service and those in need of it may not necessarily meet. The obstacle here may have been too high a threshold to seek a referral from occupational healthcare, and then go see an occupational health psychologist at their office," Sara says.
When we analysed sick leave at Oral, we found that it would be beneficial to bring additional resources to support mental well-being. Employee surveys also showed that experiences of psychosocial stress were present. Through job surveys, we received feedback that it is worth investing more and more in these areas.
Well-being at work program made whole with Auntie
"We have had long-term cooperation with a pension fund and we spar with them at regular intervals and review our existing service offering to support well-being at work. In these discussions, the services of Auntie and their suitability for Oral came up. Sara contacted Auntie's reference customer to hear about their experiences. After hearing positive feedback, Oral and Auntie met to discuss what the collaboration could mean for Oral.
In the pilot, Oral set off briskly and acquired a large number of mental well-being service packages, from which employees were free to choose the most suitable package for their needs. There are packages for everyone, some also aimed specifically at managers.
The low threshold nature to introduce a service package is a key factor of Auntie. There are non-work-related stressors in all our lives and many of us are at a different stage of our life. It is important to see the person as a whole and bring help to those stressful situations.
Satisfied users of Auntie
"When we got the first set of feedback, the user experiences were really promising. Users were satisfied with what they gained from the service, how they gained strength, and how the experience of stress decreased. In many aspects the results are really good," says Sara.
The total rating from those who used the services is over 9. Another interesting indicator was that everyone gives their recommendation and 26 % of the respondents felt that their work efficiency had improved. The service had an energizing effect, it not only helped you reach a certain level but also gave you more strength and resilience.
It is important to talk about the services — the importance of internal communication was emphasized
Together with Auntie, Oral built clear materials for the implementation of the service, which were easy to utilize when communicating the introduction of the new service to all personnel. The matter was openly discussed with both managers and employee representatives, which helped build trust. "Along the way, we noticed that it's worth communicating about the service regularly to make it familiar and safe for the entire organization," says Sara.
Auntie is an easy to buy service
"We were surprised about the easy implementation; everything was pre-packaged for us. After all, these things generally aren't easy when it comes to the world of mental well-being. It was made an easy-to-buy entity, you know what you are buying, and there is nothing vague or mysterious about it. The service concepts are designed to be truly functional," says Sara.
Auntie is able to see a person as a person, what we are all, even if we have all these work roles, responsibilities, and goals. As an employer, we would not have the necessary reach and ability to assist employees in their private matters without Auntie. It shows up in daily life at the workplace when someone has a stressful situation in their private life. Comprehensiveness is the best thing about Auntie.
"You should try Auntie if caring for your teammates and standing out as a great employer and workplace are important to you. At the heart of Oral's strategy is to be the most desirable employer in the industry, and to provide a great job for every expert in the industry. The goal is that all oral health professionals want to work here. At Oral, well-being at work is about caring for people," emphasizes Sara.
Oral Hammaslääkärit Oyj is Finland's largest private chain providing oral health care services, employing more than 1,700 professionals. Oral operates in more than 70 locations and the group also includes dental laboratory company Oral Hammaslaboratorio Oy. Oral is part of the international Colosseum Dental Group, the ultimate beneficiary of which is a charity that supports the development of children and young people worldwide. Learn more about Oral.