Rakettitiede offers expertise in demanding software development by providing specialists for its customers' product development teams. Rakettitiede ("Rocket Science" in Finnish) has about fifty rocket scientists, seasoned IT consultants who find it important to perform their work even beyond expectations. The bar is also high for the back-office crew. Auntie services are necessary so that employees can keep their own heads in order. This has a direct impact on business.

According to Juha Huttunen, CEO of Rakettitiede, the feedback received from employees on the use of Auntie is positive. The results obtained from the users of the packages in the Auntie Insights portal for customers' HR professionals say the same:

- Service satisfaction 9.6/10
- Recommendation 100%
- Increase in wellbeing 17%
- Reduction in stress levels 22%
- Increase in work efficiency 16.4%.

Juha says that he has often received feedback from employees both during the recruitment phase and later that offering Auntie is appreciated.
According to Juha the utilisation rate of Rakettitiede consultants is high, and the salaries are among the best in the industry. However, consulting work is project-based by nature, which can lead to fluctuations in income level. Consultants are part of the customer's product development team and work for the same customer for long periods of time. Sometimes, however, there are pauses between assignments, and these periods can create uncertainty, which some tolerate well while others find it stressful.

Maintaining mental wellbeing begins already at the sales stage
According to Juha, the most important ingredients for daily wellbeing at work are the type of customer and the nature of the assignment work. Juha admits that Rakettitiede is not the only one doing things well. However, he believes that the company is at the forefront of investing in ensuring that everyone works in a work environment where they enjoy themselves and succeed in other ways than just technical excellence. This gives employees the opportunity to succeed beyond expectations. When people enjoy their work, they are not burdened but have the energy to do it for a long time. The employee's productivity stays high, and the customer gets value for money.

Juha says that already at the sales stage, in addition to technical expertise, the consultant's suitability for the customer's team is considered. "Once the the assignment has started", says Juha, "we regularly talk to the consultant and the client about whether everything is okay and how things are progressing according to plans and goals.
"From the CEO's point of view, even if you are not interested in people's well-being at all, you should be interested in business. Auntie is a way to keep people in good working order, and it has a big financial impact for any company."

Juha Huttunen, CEO, Rakettitiede
Rakettitiede wants to take care of the wellbeing of consultants. In challenging situations, the root causes are examined and, if necessary, attempts are made to adjust the customer project.

"We try to be flexible as much as possible", explains Juha. "We can also ask the customer to be flexible by telling them that the employee is not able to work one hundred percent at the moment. The message to the employee is also that at least you won't lose anything if you talk to Auntie."
Personal life floods the workplace
"Of course, no one needs to tell us what happens during the Auntie sessions", Juha says. "Some situations are reported to me by the employees themselves, and in these cases the problems have been caused by personal life. For example, there has been a challenging family situation that reverberates at work. Of course, sometimes wellbeing problems arise due to work itself, in which case the best solution is usually to change the assignment."

In addition to Auntie, Rakettitiede also offers longer-term therapy.

"Auntie and long-term therapy are both good, but they are band-aids in my view", continues Juha. "They must exist, but the actual wellbeing begins already at the stage when the consultants are sold to the customer."

In addition, each Rakettitiede consultant has a special colleague, a "janitor", who provides support in addition to technical sparring. The job of the janitor is to ensure that the conditions for work and wellbeing are in order.

"Overall, we strive to be as fair and transparent as possible and treat everyone the same," Juha says. "For example, the salary model is the same for all consultants, and there is no halo effect or anything else."
Clear conceptualised service and flexible language selection
Rakettitiede mapped out other wellbeing services alongside Auntie, but Auntie had the clearest concept: packages of five sessions on different themes and in different languages. The choice of languages was important, as not all employees of Rakettitiede are native Finnish speakers. The other service options were smaller companies with fewer professionals. Rakettitiede wanted to ensure everyone in need of support gets professional service in a suitable language, which is why Auntie was chosen as the service provider.

Juha particularly likes the careful crafting of the service packages: "In a way, it's surprising that package structure works so well, because my own experience is that this kind of process depends a lot on the personal chemistry between a professional and the individual. I myself have taken a few packages for different reasons and with different professionals, and I have found them good in terms of personal chemistry. They weren't stereotypical "tell me more about your mom" therapists, rather we talked directly to the point, calling a spade a spade. Auntie's professionals were really good at that."

Consultants are not in the office every day, so it's not easy to ask if everything is okay. By utilising Auntie, all employees have the opportunity to talk to a professional with a low threshold – especially when working remotely or at the customer's premises.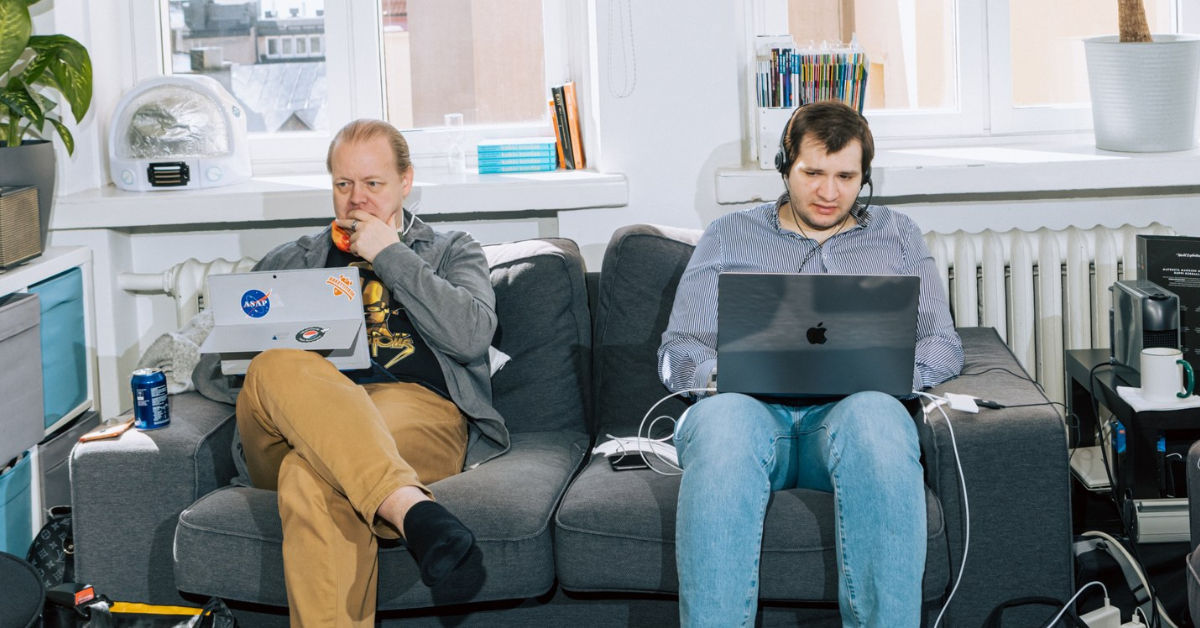 Good work ability has a big business impact
Since the founding of Rakettitiede, employees have always been put before money. "Our business is to sell software developers, but that doesn't mean faceless consultancy trading", explains Juha. "The customer knows that we provide the best possible quality, and one of the reasons for this is that our employees are fired up by their work", Juha says.

That's why taking care of your mental wellbeing is important. One of the motivators is the business effect: if a person is incapacitated, there will be no turnover and profit.

Mental challenges are usually an exceptional situation that may be caused by difficulties in personal life and can only be influenced to a limited extent by the employer. "When you have the right person in the right place doing the right things with a good feeling, then the customer gets good results, is satisfied and wants to buy more", adds Juha. "Business expansion and customer satisfaction are an important incentive to take care of wellbeing."

Juha mentions that the average age of Rakettitiede employees is about 40, which is relatively high for a company in the field. Many employees are in so-called peak years. According to Juha, it is important that people feel good at work and that work is flexible, for example, as the family grows. You want to hold on to a good employee.
Rakettitiede
Rakettitiede is a software development company founded in 2011. Rakettitiede employs the best software developers in the country, who have insight brought by experience and the ability to solve tricky challenges, which stands out from other coders. Rakettitiede employees are at their best when they get to solve unique puzzles. The core competences of Rakettitiede is web and mobile services, IoT and embedded systems. The necessary expertise is delivered, whether it is one developer or a whole team.

https://rakettitiede.com